Home on spring break. It is delightful, a touch boring, a lot refreshing, and nerve-wracking, since I have, as usual, quite a bit of work to do.
---
This week I did something I had been planning for a while -- I gave myself some social insurance by crafting a "socially acceptable" list of bouncy music for my iPod, as well as a shorter, but still "acceptable" list of "that one mood music." (It's raining, or maybe the sun is shining, but you're quiet inside and wondering;) The creation of these lists makes life easier for me (after all, when I am in a contemplative mood I don't want to suffer the indignity of digging through my iPod album lists to find music that supports this frame of mind), but it also provided social insurance.
Re: The driving-back-to-Tokyo iPod debacle: Never again.
However, as I dug through the tracks I have accumulated, I realized I needed to gather together another group of songs -- the Tokyo music. I have an unfortunate tendency to completely annihilate a song when I first acquire it -- i.e. I listen to it on loop 20 times or so until I absolutely cannot stand to hear it any more. The upside is, the first time I discovered a piece of music has a definite time and place in my brain. Most of these songs surrender up crisp-centered, wavery-edged memories almost instantaneously, if not of a time and a place, of the
feeling
of being in Tokyo.
So: the list. Judge me not.
Again Again
, Lady GaGa. A sort of bemused state of mind. . . about mid-way through the summer, re-orienting myself once again.
Billie Jean
, Michael Jackson. MJ died whilst I was in Japan (I think during the MISTI field trip to Kyoto and Nara, actually.) I don't know what it was like in the U.S., but based on the media coverage I saw, you would guess that the Japanese nation was BEREFT WITH GRIEF. Admittedly, the Japanese news usually covers things such as, "It is raining in Kyuushu. Oh dear!" (other newscasters: "Soo desu nee!"
["Indeed!"]
) so maybe it was just more interesting than their usual. In any case, I heard more Michael Jackson last summer than I had heard in my whole life. I think my boss played his
Thriller
album 10 times over during July.
Jump (For My Love)
, Girls Aloud (from the
Love Actually
soundtrack, originally by the Pointer Sisters). It's happy! It's bouncy! It's full of adventure! This was one of my "it's a good day and I'm in Tokyo and I'm thrilled to be here" songs.
Can't Take It In
, Imogen Heap. My residential street (the one that I could touch both sides of with my hands held out) went out onto another, slightly larger residential street, which fed in turn onto a GIANT street with four or six lanes and an overhead highway, called Tamagawa Dori. I have a really strong impression of walking down this huge street over and over again, sweating because the summer sun was so hot and the humidity so high, admiring the beautifully kept sidewalks, and thinking, "I am six thousand miles from home, I have finally started adventuring. . ."
My Only Offer
, Mates of State. This song was described on an MIT classmate's blog. What more can I say? Another "life is terribly exciting!" song.
Beautiful Dirty Rich
, Lady GaGa. Walking to work. . . dreaming that someday I would travel for leisure. . .
Money Honey
, Lady GaGa. This is sitting in my memory next to all those late-night runs to Family Mart for pastries and Coke Zero, and the weird paradox that is a city where all the museums close at 5 PM and all the clothing stores close at 8 PM, but there a hundreds of convenience stores open all night, every night, everywhere. Tokyo seems to run on the assumption that all its citizens spend all day at work and promptly go home and go to sleep, but yet there is always the convenience store waiting for you, should you be up at 2 AM and alone. . .
Comptine D'Un Autre Ete - L'Apres Midi
, from the
Le Fabuleux Destin D'Amelie Poulain
soundtrack. A good thinking song, a good "I am not sure" song.
Beat It
, Michael Jackson. Painful, painful, painful karaoke experience, and that's all I'm going to say about that.
Long Time Coming,
by Oliver James. An exact memory: The Narita Airport shuttle bus pulled out of Shibuya Station, the the madhouse closest to where I lived. It rolled past Tokyo Tower on August 25, four hours before I boarded my flight home. It was the first time I had seen it; I had kept meaning throughout the summer to go over to Tokyo Station and go up to its observation decks, but I never quite got around to it. It was bright and hot, and I stayed awake for almost the whole two-hour drive to the airport. I remember feeling sad that it was over -- just a little -- and painfully, ridiculously happy that I was going home.
---
Things from the interwebz that have me happy in the past week:
First, a couple of art and design tidbits:
This piece by
Alphonse Mucha
comes from the same site that I used to source Albrecht Durer drawings. Man I love Art Nouveau. I wish I would have found this site (which contains a whole glorious crapload of beautiful works by Mucha) about two years ago when I was doing my Twelfth Night poster, so it would have been a little less "vaguely inspired" by Art Nouveau stylings.
For some mysterious reason I racked up a lot of fashion reading this week.
Jak & Jil Blog
, fashion photography. I like his emphasis on details; sometimes photographing entire outfits or entire shows is a little too overwhelming for me to process in any useful way.
The Glossy.
I particularly liked the entry about "Rococo Rock," from Vogue Nippon.
I find both of these blogs a little disturbing based on the fact that they also seem to be fascinated not just with the art of fashion design but also with the models who are the walking racks for this sort of thing. Besides the standard body issues, you have images like this one: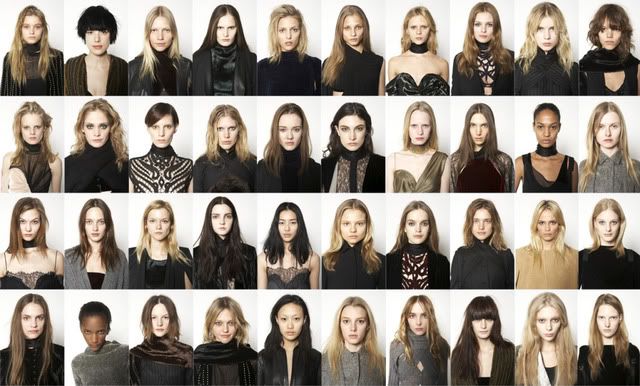 This is Alexander Wang's top 40 model faces, or something like that. They are apparently specially picked for some show. What do you notice here? There are four non-whites (maybe) among the 40. Alexander Wang is an American designer, so it's not like he can claim that he doesn't have options.
I find the fashion world interesting, but sometimes I get a little creeped out by how warped it is.
This is unfortunately probably why I find this blog, Street Etiquette, rather interesting. The vast amount of fashion seems to be borne by young (wealthy) white women, so it's interesting to see a blog about young black men's style.